When planning a garden, vertical elements play a critical role. They often come in the form of support structures, adding a necessary extra dimension to the garden. Vertical structures can serve as punctuation points in an open space, contrast with spreading plants, or frame a view to other parts of the garden when added as a pair.
Whether informal or planned in design, consider how these vertical elements can add character and a sense of presence to your garden.
Pergolas serve as ideal structures for creating a shaded walkway or seating area in the garden. Made of sturdy pillars topped by cross-beams and an open lattice, pergolas make a statement whether alone or supporting woody vines. Climbers such as grapes, roses, and wisteria look particularly pleasing when trained along a pergola and provide much-needed shade in the summer.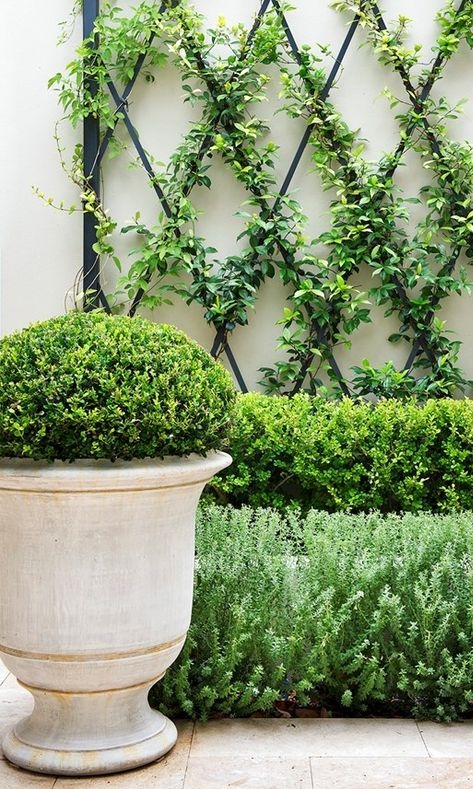 A trellis is another great way to take advantage of vertical space in the garden. The lattice of a trellis, which can be made of wood, bamboo, or metal, perfectly supports climbers and screens stark walls and fences. Some trellises come attached to planters so you can create a freestanding and mobile display.
Add points of interest to your border with a garden obelisk. The tapering pillar shape of an obelisk, typically made of metal, looks stunning alone or supporting climbers. Obelisks punctuate lower plantings, adding much-needed height.
The graceful curve of a well-placed arch provides a fantastic gateway into the garden or section of the garden. Arches brilliantly support climbers such as clematis, jasmine, honeysuckle, and passion flower. Fruit trees, like apples, pears, and plums, can also be trained upwards along an arch, over time creating a "green tunnel" — a grand entrance to any orchard.
An arbour is generally composed of a bench, whether wooden or metal, surrounded by a roof and lattice framework through which climbers can be trained. Plant up arbours with fragrant climbers to enjoy a lovely rest in the garden.
Gazebos are a type of pavilion with a roof, often octagonal or round in shape. They provide a relaxing spot in which to shelter from the rain or sun, while still admiring panoramic views of the garden.
Similar to a gazebo, a pagoda provides shelter yet has a tiered roof that adds instant character to a Japanese-style garden. Try placing it near a water feature to echo the serene atmosphere of a Japanese garden.